What this article covers
In this article we will tackle what is needed for you to set up a herb garden – a simple, easy and rewarding way to get into foodscaping. We will have a look at what a herb garden is, the types of herb combinations that are common as well as ideas for both indoor and outdoor herb gardens.
All guides and articles are created from my experience learning how to foodscape in suburban Britain, offering a hands on insight on tried and tested projects like this one. Check our social media to see our projects, chickens and yard (links to Facebook, Twitter and Instagram are top left).
Anyway, to get started on your Beginners Herb Garden project keep reading! We're going to cover:
What is a herb garden?
How do I create a herb garden?
What herbs should be planted together?
Why is a herb garden a good beginner project for foodscaping?
What herbs should I grow in my herb garden?
What can I use herbs for once harvested?
Thanks for reading and we hope you learn something you can use from this article. If you want to give back to us here at backyard-farmer.com, just click on an advert 🙂 Thanks!
What is a Herb Garden
Herb gardens are for the growing of – any plant with leaves, seeds, or flowers used for flavouring, food, medicine, or perfume (definitions from Oxford language) and can be grown either indoors or outdoors, small or large. Herb gardens can be grown alongside vegetables or flower beds and can even provide benefits in these areas like keeping away invasive or damaging species.
What are herb gardens used for?
You can find herb gardens everywhere and they have a multitude of uses such as being used in floral arrangements or even to keep pests away like mosquitoes, fleas and flies! Some herbs such as lavender or rosemary are great at dissuading all sorts of unwanted guests by simply planting them in your borders. This makes them great companion plants and if used properly they can eliminate the need for use of strong chemicals and pesticides.
Equally some herb gardens are just used for viewing pleasure, or for fragrance and aromas around gardens and parks. Whatever they are used for herbs are great for many different things, and they are for the most part easy and rewarding to grow for a beginner foodscaper like you.
How do I create a Herb Garden for beginners
Before you go running into creating a herb garden, there are a few things that need to be considered before you can design and create one. With an overwhelming amount of choice in the herb arena it's easy to get lost, we need to narrow them down. Knowing what you want from your garden will help you decide what herbs you want to start with. For example, a culinary herb garden will have a different selection to a herb garden designed for fragrance.
What types of herb gardens are there?
An indoor herb garden is kept inside in plant pots or containers, you would usually keep them on your windowsill, or if it's a culinary herb garden you might keep it in your kitchen to have fresh herbs at the ready for your latest dish!
An Outdoor herb garden is kept outside, this can either be in the ground or kept in pots or containers. Some herbs like mint have a reputation for taking over entire areas and are best kept in a pot whether they are planted in internal or external herb gardens.
Outdoor herb gardens tend to be for the more hardy and perennial herbs such as lavender and rosemary. Some herbs like basil are very delicate and tasty therefore can be eaten or damaged before you get to them!
A Herb Garden on your balcony
You don't need much space for a herb garden, even the smallest of outdoor spaces can be used to grow a fair amount of fresh food if used correctly. It's also good for your mental health to have an area surrounded by plants and nature, especially in more urban areas of the world.
Spaces like balconies, window sills and rooftops can make great growing spots for any type of garden herb. If you live in an apartment block, you can even make a community based around growing food on the roof terrace. Herb gardens can bring fresh aromas and flavours to any environment small or large, you just need some soil, water and sunlight.
Culinary / Kitchen Herb Garden
A culinary herb garden will consist of herbs that you use regularly in your kitchen for cooking. Some common herbs people will grow on the kitchen window sill are basil, mint, thyme, coriander (cilantro), sage, parsley and rosemary. Fresh herbs in your meals is second to none, and all it takes is a little watering and sunlight.
Aesthetic / Fragrant or Aromatic Herb Garden
An aesthetic herb garden is one that is designed for the senses of smell, sight and taste. You will find aromatic gardens in botanical gardens, parks and flower arrangements. They use a multitude of species which are picked accordingly, due to the wide variety of these herb gardens there is no general trend of species used. Many people also have fragrant herbal gardens in their personal spaces.
An ornamental herb garden is similar to an aesthetic one in that it is there for decoration rather than use in a perfume or meal, although an ornamental one is more likely to be visually impressive. You will usually find these in botanical gardens, parks and flower arrangements. You could also have one of these at home.
A herb garden can also be used as defence against some of the world's most annoying pests such as fleas, mosquitoes, ticks and flies. By planting certain herbs as a barrier or by having them strategically spread around you can ward off many little beasties! A good example of an effective pest control herb would be lavender, this can be used to keep away mosquitoes, fleas, flies and moths! (also very effective as an essential oil)
These days everyone knows about herbal teas and their benefits, certain herbs can offer mild relief and even stave off more serious conditions if consumed as part of a balanced diet. One of my favourite home teas is mint tea! Mint is very easy to grow and is good for digestion as well as many other things. You can grow a large herbal tea garden outside, or a modest one indoors, there really is no limit.
What herbs should be planted together?
Plants can be a bit like people, they are not all that fussy about each other sometimes and shouldn't really be put next to each other! This is also true with some herbs, whilst there are no definitive rules to planting different herbs next to each other, there are some that prefer the company of some species over others. For a brief guide on what herbs grow well together in a container see below.
Herb Companion Planting Chart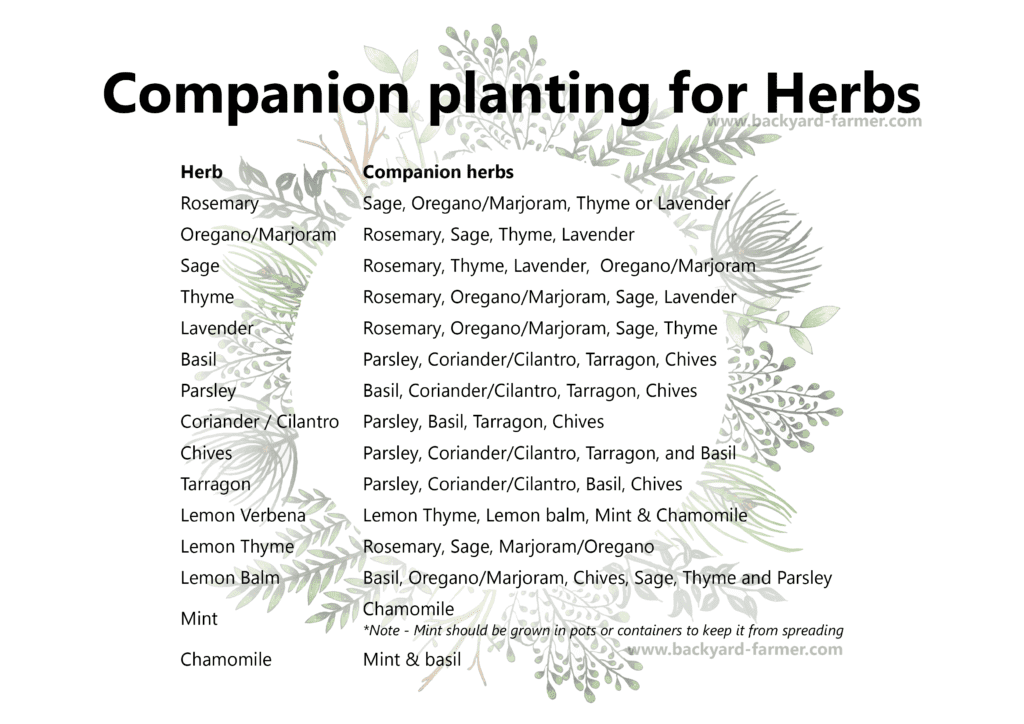 Why is a Herb Garden a good beginner project for foodscaping?
A herb garden, in whatever form you choose is one of the best beginner projects you can undertake for your foodscaping adventure. Although nature does most of the work in growing, it can be tricky and has its ups and downs. Some plants, herbs & vegetables are harder to grow, just like some are easier. Herbs are also quick to harvest, meaning you get to learn how rewarding growing your own ingredients can be very quickly compared to vegetables etc…
Foodscaping is all about making the most of your space to grow edible foods. Herbs are usually found in all sorts of different environments and rugged terrain in nature making them resilient and tough plants. This makes them more resilient to the mistakes you might make if you are a beginner at growing plants. If you do make any mistakes, herbs can be quick to bounce back and still good to harvest.
Overall growing herbs can be easier & quicker than starting out with other edible plants like a root vegetable that can take a long time to develop. Vegetables and fruit are also more prone to disease and pests during the growing period. A herb garden is a gentle way into the world of beginner foodscaping as it's easier to grow and harvest your produce.
What herbs should I grow in my beginner Herb Garden?
Again the choice is up to you really, however if you're stuck for ideas of what herbs you can grow, here's a few you can try. Remember to consider what you want out of your herb garden.
A beginner aromatic herb garden might consist of lavender, chamomile, basil, lemon balm & mint.
A beginner culinary / kitchen herb garden might consist of basil, rosemary, thyme, oregano / marjoram & parsley.
A beginner herbal tea garden might consist of mint, chamomile, lavender, lemon verbena, lemon balm & thyme.
What can I use herbs for once harvested?
Once you have your herb garden up and running you will need to maintain it & harvest what you can. There are a few things you can do with your harvest and leaves such as dry them out for storage and cooking or turn them into sauces like pesto! Once dried herbs have a multitude of uses from making tea, remedies, flavourings & scented bunches.
Thanks for reading & I hope you gained some valuable knowledge to take on your foodscaping journey.
Resources:
Flower vector created by macrovector – www.freepik.com
Photo by Wendy Wei from Pexels
Photo by Tima Miroshnichenko from Pexels