Totally Wild is a company in the United Kingdom that offer educational services in foraging for wild foods in the UK. They are an experienced and reputable company set up by founder James Wood, a keen forager.
Who founded 'Totally Wild'?
James Wood founded Totally Wild and is also the author of the foraging cookbook The Foragers' Cookbook: A Countryside Guide to Foraging and Cooking with Wild Food. James has been interested in foraging since childhood and has made everything from mushroom paper to elderberry salt.
After years of hands-on experience, James is considered one of the UK's top wild food and foraging experts. He has even written an award-winning and highly reviewed book, The Foragers' Cookbook: A Countryside Guide to Foraging and Cooking with Wild Food, with a 4.5-star rating on Amazon!
The Foragers' Cookbook offers a unique insight in to the huge abundance and massive potential uses for the plants we walk past on a daily basis. This book will give you the confidence and guidance to explore your surrounding green spaces and safely pick wild edible plants found all around us with detailed Identification guides to:
The 'Totally Wild' team today
Totally Wild started with James Wood and has now grown into a team of foraging enthusiasts in the UK. The combined goal of this fantastic team is to make wild food & foraging accessible to as many people as possible. They have foraging experts in England, Wales & Scotland ready to teach you about the fantastic flavours and free wild foods on your doorstep.
What Totally Wild Foraging Courses are there?
Totally Wild Foraging courses teach what you might expect which is to forage for wild foods. But that's not all. They will also show you how to make the most of these wild foods with incredible recipes and teach you about their medical properties. You will experience flavours you would never expect from wild food, like seaweed that tastes like beef jerky!
The courses offered by Totally Wild are:
Foraging Courses
Check out the calendar for the next Totally Wild Foraging Course and see if there are any in your local area. If there is, you can join one of the foraging courses and learn all about wild foods. As the foods are foraged from the local environment, foods and recipes will be seasonal.
What to Expect on a Totally Wild Foraging Course
Your foraging expert will lead a group through the day and answer any questions. You can try various wild fauna and fungi with different flavours and textures.
5-6 hours foraging with your expert.
How to confidently ID local edible wild plants and mushrooms.
Learn about the medical properties of local plants.
Try a range of local premade wild foods, from syrups to alcohol infusions.
Collect and create a dish from locally foraged foods.
Online Courses
Online courses are new to Totally Wild Foraging – however, you can sign up and participate in the development. Sign up for the next event here, but be quick! Jumping on an online course is a chance to talk with some highly experienced food, health and wellbeing professionals – spaces are limited & going fast.
How much do Totally Wild Foraging days Cost
A day out with Totally Wild Foraging will cost you £70 per person with groups of 5 – 15 people. Private foraging courses are available on a quote basis.
Totally Wild Foraging Reviews
You can rest assured that you won't waste your money with Totally Wild Foraging. Not only is Totally Wild Foraging an established company, but they also have great reviews on many platforms.
Totally Wild Foraging have an outstanding 4.5 stars on Virgin with 22 reviews and counting!
Wild foraging near me
Totally Wild have foraging courses up and down the length of Britain with foraging experts in England, Scotland and Wales. If you go to Totally Wilds website and check their foraging course calendar, you can find out when the next wild foraging event near you is taking place.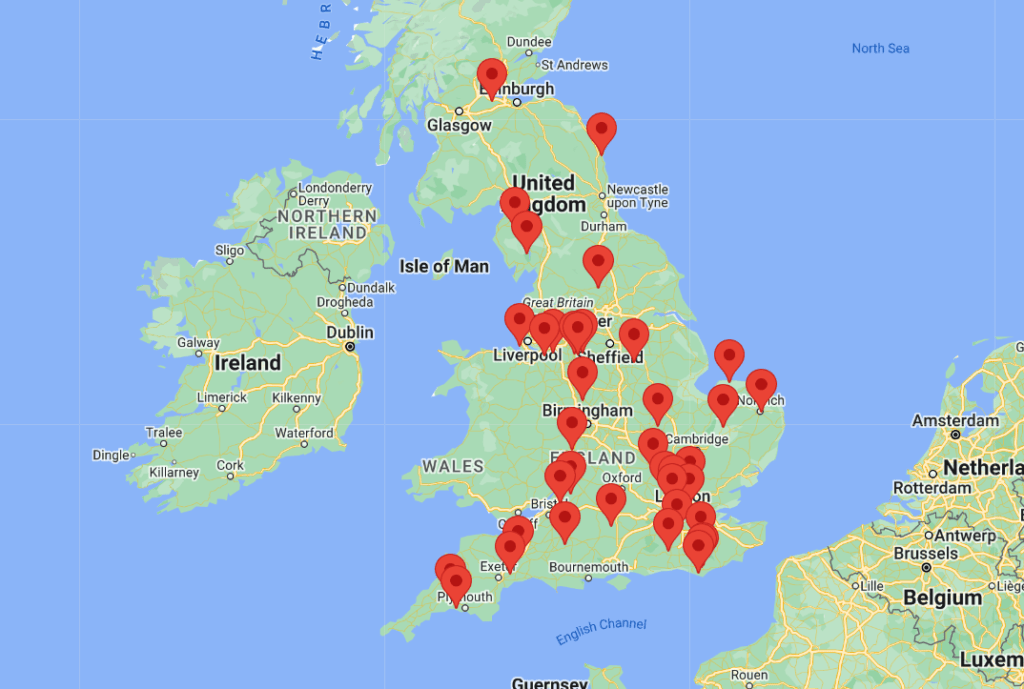 Realted Articles: Foraging for beginners UK, Foraging for wild food in the UK, Ten edible plants you can forage